The following 3 maps may be useful for anyone considering buying property on St. Croix.

St. Croix Map
Shows all the Estates, roads, bays, etc. This is a detailed map that will help you reference the neighborhoods (Estates) named in our listings. Estates were plantations or ranches. Our modern subdivisions often span across these ancient Estate lines, but your address in any of the U.S. Virgin Islands will begin with a plot number followed by an Estate name. Click on the map to enlarge it. If you need to further enlarge the map, you can change the zoom setting on your web browser (on Internet Explorer you can click on the zoom on the lower right hand corner of the browser).


Map of St. Croix Condos
This is a drawn map showing the general location of St. Croix's condominiums. Click repeatedly to enlarge this map. Not all our condos are shown (we're working on it).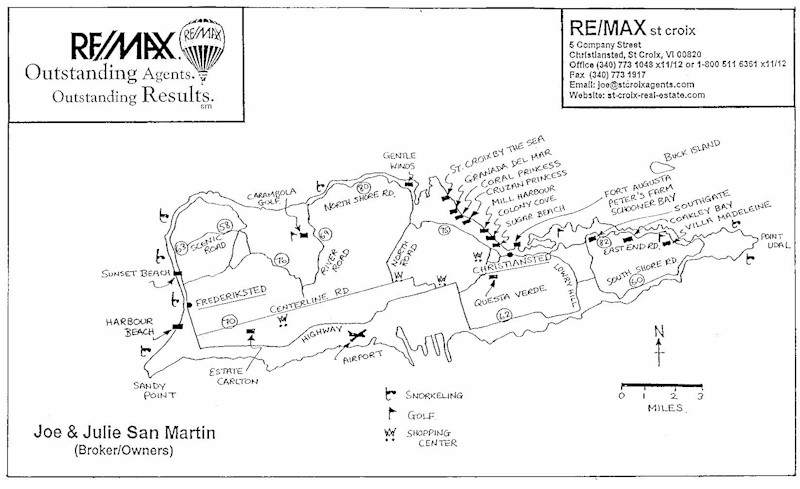 Map of St. Croix's Quarters
The ancient Danes divided the Virgin Islands into Quarters (within which there are the Estates). These Quarters have nothing to do with 4ths, they just refer to a large parcel of land. St. Croix has 9 Quarters. When looking at our Real Estate listings you will see address that are followed by NA, or NB or EA, and such. These are the abbreviations for our Quaters e.g. NA = Northside A, EB = East End B, etc. St. Croix is also divided into two Districts: Christiansted and Frederiksted. This is shown on the Official Map above, although it may be difficult to discern.